Bandsaw blades SGLB from Amada are suitable for cutting a range of materials. 

Amada Bandsaw blades suitable for cutting Stainless Steel, Mild Steels and Exotic Alloys.
Features:
Bandsaw blades made of AMADA's original M42 Cobalt high speed steel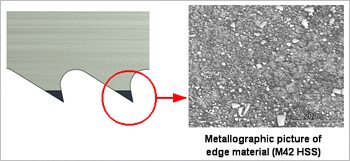 Bandsaw blades SGLB from Amada are suitable for cutting solid materials ranging from general steel to difficult-to-cut alloys. Amada's M42 HSS steel is perfectly suited to withstand the cutting demands of  all steel types. A blade for general applications offering precision across the widest range of solids, sections and steel grades. Available in widths from 20mm to 80mm and to suit all sawing machine types. High quality alloy backing material prevents premature breakage and fatigue cracking. This together with Amada's original M42 High speed steel cutting edge guarantees unsurpassed performance and reliability.  
Superior Saws distribute the Amada range of band saws from our welding centers in both Sydney and Brisbane. Same day delivery of bandsaws is offered to both Sydney and Brisbane metropolitan areas with overnight delivery available to Melbourne, Adelaide, Newcastle, Wollongong, Gold Coast, Sunshine Coast, etc. Delivery to Perth is 2-3 days or overnight for smaller items. 
• Widest bandsaw lineup to cover all material shapes. 
Line up of blade range: